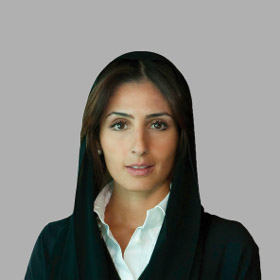 H.E. Razan Khalifa Al Mubarak
It is a large 1,000+ employee government agency responsible for all environmental regulation, conservation and promotion of sustainable development in the emirate of Abu Dhabi, the country's largest by far and includes the UAE's capital city.
In her pioneering role as Secretary General and subsequently Managing Director she was the youngest person to be appointed to lead an Abu Dhabi Government entity and one of the only women to hold such positions. H.E. Al Mubarak has for over 20 years spearheaded progressive environmental protection and species conservation across West Asia and globally.
Milestone achievements of EAD under her leadership include: founding and executing the Abu Dhabi Global Environmental Data Initiative (AGEDI), dedicated to facilitating access to important global environmental data to guide government and NGO policy decisions for a more sustainable future worldwide; the launch of the Eye on Earth Summit in collaboration with the United Nations Environment Programme; habitat mapping of the terrestrial and marine environments of Abu Dhabi, the largest and most detailed delineation of habitats in the world to enable optimal urban and conservation planning. She is also championing the reintroduction of Extinct in the Wild species, including the Scimitar-horned Oryx into Chad – one of the world's most ambitious mammalian species reintroduction programmes. EAD, during Razan's tenure, has also established and managed protected areas across 15% of Abu Dhabi's terrestrial and marine territory, established the first ever environment-focused courts, and promoted a majority of women into positions of leadership within the organization.
Under her leadership, EAD has established many long-term international collaborations including those with the governments of New-Zealand and Chad and has been actively engaged with international organisations for the protection of the environment including for example the Ecological Footprint Network, WWF, Birdlife International to name only a few. The Environment Agency Abu Dhabi continues to be a very strong supporter and advocate for IUCN, and under Razan's leadership, EAD became an IUCN Framework Donor and has been one of the main supporters of the IUCN Species Survival Commission for the past 16 years. For more than 10 years, EAD continues to host two CMS secretariats for memorandums of understanding for migratory raptors and dugongs.
In addition to her leadership at EAD, H.E. Al Mubarak serves as a board member of numerous interconnected environmental influencers and stakeholders within the UAE, including the Federal Authority for Nuclear Regulation and as Chair of the Board of Directors of the International Centre for Biosaline Agriculture. In addition, she serves as an Advisory Board member of the Rockefeller Foundation Economic Council on Planetary Health, the Cambridge Conservation Initiative, the Emirates Diplomatic Academy, and a Board member of Panthera (a charity devoted to conserving 40 species of big cats and their habitats around the world) and the Women in Sustainability, Environment and Renewable Energy Initiative (WiSER).
H.E. Al Mubarak's career has focused on environmental conservation and protection, with government organizations and civil societies with a strong interest in species conservation. She helped establish Emirates Nature in association with WWF (EN-WWF) in 2001 and is currently its Managing Director. Under her stewardship, EN-WWF has undertaken the most comprehensive coral reef mapping in West Asia, pioneered research and conservation efforts to protect the Critically Endangered Hawksbill turtle and created the Wadi Wurayah protected area as well as a number of leading sustainable education and stakeholder engagement initiatives across the UAE.
She is also the founding Managing Director of the Mohamed Bin Zayed Species Conservation Fund (MBZ Fund) – one of the world's largest foundations supporting direct species conservation. Since its inception the MBZ Fund has supported thousands of projects in more than 150 different countries benefitting more than 1,300 different species and subspecies across all taxa. Through this work, numerous species have been rediscovered and many have been pulled back from the brink of extinction.
In recognition of her global role in the field of environment and conservation, in 2018 she was selected by the World Economic Forum as one of the top 100 young sector leaders who contribute to building a more sustainable future for humankind, and appointed as Young Global Leader of the Forum.
She is a keen supporter of the arts, cultural preservation and development, and serves as a member of the Board of Advisors to the Abu Dhabi Music and Arts Foundation.
H.E. Al Mubarak holds an MSc in Public Understanding of Environmental Change from the University College London, UK and a BA (Hons) in Environmental Studies and International Relations from Tufts University, Massachusetts, USA.
H.E. Al Mubarak is married with a daughter, and harnesses every opportunity to enjoy the natural heritage of the world with her family.