The Abu Dhabi Sustainability Group (ADSG), which was created by the Environment Agency - Abu Dhabi (EAD) in 2008, is celebrating its 15-year anniversary which coincides with the Year of Sustainability announced by His Highness Sheikh Mohamed bin Zayed Al Nahyan, President of the UAE.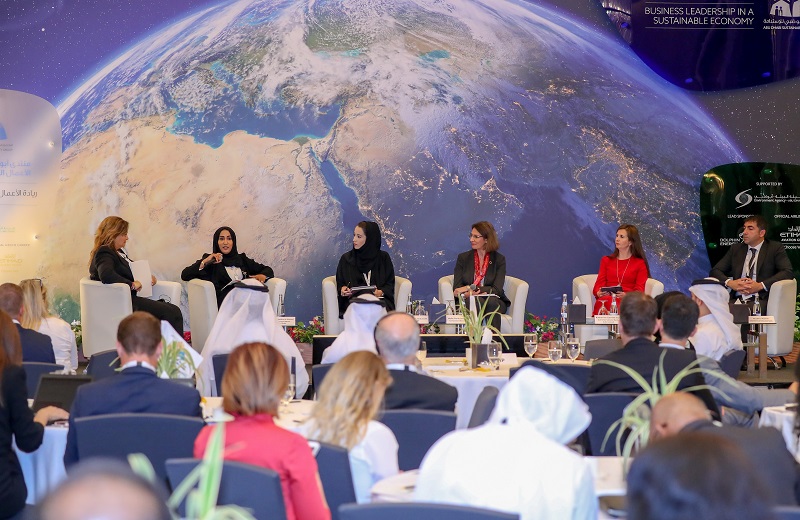 Abu Dhabi, 16 August 2023: The Abu Dhabi Sustainability Group (ADSG), which was created by the Environment Agency - Abu Dhabi (EAD) in 2008, is celebrating its 15-year anniversary which coincides with the Year of Sustainability announced by His Highness Sheikh Mohamed bin Zayed Al Nahyan, President of the UAE.
As part of this remarkable milestone, the ADSG has invited all of its members to reaffirm their commitment to the group's mission and vision. This calls for a commitment to work together to adopt sustainability as a fundamental approach to achieving the vision of the emirate of Abu Dhabi regarding sustainable development, building a cohesive society and an open economy capable of global competition.
Through its tireless efforts, the ADSG and its members have positioned Abu Dhabi as a leading hub for sustainability initiatives, setting a unique example for organisations worldwide for voluntary collaboration across multiple sectors.
Founded to raise awareness, share knowledge and best practices, facilitate collaboration and promote sustainability reporting and global reporting standards, the ADSG has become a driving force in promoting sustainable development in the region.
H.E. Mohammed Ahmed Al Bowardi, Minister of State for Defence Affairs, and Vice Chairman of the Board of Directors of EAD said: "Over the past 15 years, I have witnessed with pride the unprecedented success of Abu Dhabi Sustainability Group, which has developed into a key player in the sector and enjoys a strong presence in Abu Dhabi due to its ever-growing body of members. Initially, we started with 15 members, and have recently welcomed our fifty-second."
He added: "It is fitting that we celebrate the 15thanniversary of Abu Dhabi Sustainability Group in the UAE's Year of Sustainability and as the nation gears up to host COP28 – a key event in the UAE's climate action history. I am certain that Abu Dhabi Sustainability Group will have a major role to play at the global forum and going forward well into the future."
Commenting on the occasion, H.E. Dr. Shaikha Salem Al Dhaheri, Secretary General of EAD, expressed her appreciation to ADSG's members for their commitment to sustainability over the years. She said, "The Abu Dhabi Sustainability Group's members have played an important role in integrating sustainability governance to achieve impact in the emirate, the UAE and our region."
Her Excellency added: "Together, we have achieved many milestones over the past 15 years, and I am confident that our collective efforts will continue to shape a more sustainable future for Abu Dhabi. We will continue with our journey and redouble our efforts to deal with a range of sustainability challenges in a way that is aligned with EAD's mandate to protect biodiversity and Abu Dhabi's environmental sustainability."
Since its inception, ADSG has contributed, through training programmes, to preparing reports and workshops on various sustainability issues such as climate change, governance and sustainable economy. This has led to an increase in awareness of their importance in raising the level of disclosure and transparency in institutions through the issuance of several reports submitted by many entities in Abu Dhabi on the requirements of sustainability. The reports also contributed to providing important information in the environmental, economical and social fields, encouraging work and supporting efforts to implement sustainable investment and its impact on attracting major investors to the United Arab Emirates.
Thanks to more transparent reporting by several Abu Dhabi entities on their sustainability mandates major investors have been attracted to the UAE. ADSG has also raised the international leadership profile of Abu Dhabi as the emirate has the highest number of government organisations in the world reporting in accordance with Global Reporting Initiative (GRI) guidelines.
The group's international partnerships were carefully developed and resulted in events and activities that have helped to introduce concepts such as circular economy with the Ellen MacArthur Foundation, the strategic role of sustainable finance through collaboration with Accounting for Sustainability on a regional scale and engaging on the value of nature through partnerships with the Capitals Coalition.
Dolphin Energy has been an active founding member of the ADSG since 2008. Expanding on the company's association, Mr. Obaid Abdulla Al Dhaheri, Chief Executive Officer of Dolphin Energy Limited, said, "We are proud of our partnership with ADSG and delighted to support its strategy that places the public and private sector at the heart of tackling climate change and sustainability challenges across the UAE. I would like to congratulate the group on achieving this milestone and look forward to extending our support in the years ahead."
"As a proud ADSG member, I stand humbly amid the green revolution that we've collectively nurtured over the past 15 years. Under the visionary guidance of the Environment Agency – Abu Dhabi, we have sown the seeds of sustainability that have transformed the emirate of Abu Dhabi. Reflecting on our journey, we are profoundly proud of our collective achievements. As we look towards the future, we remain committed to expanding our green footprint, and together will act as the joint stewards of Abu Dhabi's sustainable future," said Dr Nashwa Al-Ruwaini, CEO of Pyramedia Group.
Faisal Falaknaz, Acting Chief Financial and Sustainability Officer at Aldar Properties said: "Aldar is proud to have been a founding member of ADSG, and we remain committed to its core values and objectives. Through ADSG, we have had the privilege of working alongside like-minded organizations, exchanging best practices, and collectively tackling the most pressing sustainability challenges facing our region. Looking forward, we will continue to invest in sustainable solutions, raising the bar for sustainability in our region and contributing to the UAE Leadership's vision and aspirations."
The Abu Dhabi Sustainability Group will host its highly anticipated 8th Annual Abu Dhabi Sustainable Business Leadership Forum and Awards from 3rd to 5th October 2023, continuing the celebration of its anniversary. This prestigious event will bring together sustainability pioneers, industry leaders, and experts from various sectors to engage in insightful discussions, share best practices, and recognise outstanding achievements in sustainable business practices.
Under the theme of "Nature Positive Growth," this year's event forum will explore strategies for achieving sustainable growth while preserving and enhancing our natural ecosystems. Attendees can look forward to thought-provoking keynote speeches, panel discussions, interactive workshops, and networking opportunities that foster collaboration and innovation.
Launched in 2015, the ADSG Sustainable Business Leadership Awards and Recognition scheme was created to recognise best practice in sustainability and award organisations who have demonstrated real-world impact. The ADSG Awards have attracted more than 400 successful applications from across the region. The annual event offers a unique opportunity for all member organisations, stakeholders, and sustainability professionals to acknowledge key achievements across the region.
ADSG is also developing a publication documenting Abu Dhabi's journey of sustainability. Entitled "Pioneering Sustainability: 15 Years of Abu Dhabi Sustainability Group," the specially commissioned book will highlight the group's significant accomplishments.
Over the years, ADSG has developed several networking platforms including training and flagship programmes, forums and awards that contribute tangible solutions to sustainability challenges and offer a valuable opportunity for members and partners to collaborate and consolidate the various initiatives undertaken. To date, more than 1,500 sustainability delegates and practitioners have participated in the group's annual forum and events.