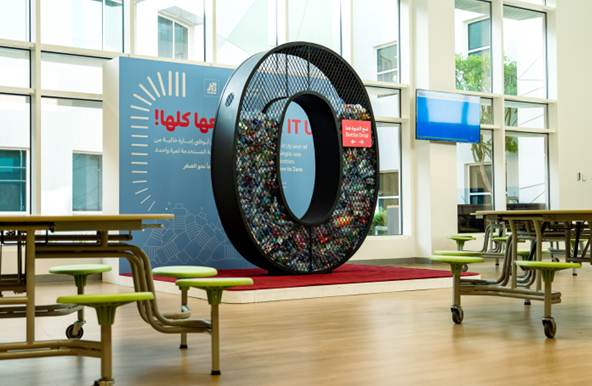 Abu Dhabi, 20 June 2023: The Environment Agency – Abu Dhabi (EAD) has joined forces with Aldar Properties PJSC ('Aldar') to encourage a culture of recycling single-use plastic bottles. As part of its Sustainability activities, Aldar will be taking over eight large Big Zero installations, making it easier for members of the community to dispose of their single-use plastic bottles, which are then sent for recycling.
The Big Zero installations were first introduced by EAD during the Abu Dhabi Hunting and Equestrian Exhibition (ADIHEX) last year. These new installations will be placed in eight locations within the Aldar portfolio that experience high footfall including Abu Dhabi's largest shopping destination, Yas Mall. Installations will also be present in a number of Aldar residential communities such as Gate and Arc Towers on Reem Island, Al Muneera, Al Zeina, and Yas Acres, as well as Aldar Education's Al Yasmina, Al Bateen and Al Mamoura Academies.
EAD and Aldar are planning to launch an awareness campaign on social media to inform the public regarding the location of the Big Zero installations. The real estate developer and manager has been a prime supporter of EAD's Mission to Zero campaign which was launched in June of last year. Mission to Zero outlines an aspirational target of zero single-use plastic, zero waste, zero emissions and zero harm to biodiversity in the emirate of Abu Dhabi.
Ahmed Baharoon, Executive Director of Environment Information, Science Outreach Management Sector, at EAD, said: "Over the years, our partnerships with the private sector have proven to be extremely fruitful and several significant environmental campaigns have been immensely successful as a result. Aldar has been very keen to support EAD's Single Use Plastic Policy and, specifically, our Mission to Zero campaign by choosing to place our Big Zero installations at locations within their projects. Aldar will then collect all the singe-use plastic bottles and send them for recycling, taking us a step closer towards achieving our larger goal of zero single-use plastic use or waste in Abu Dhabi."
Salwa Al Maflahi, Director of Sustainability and CSR at Aldar, said: "The partnership with The Environment Agency – Abu Dhabi reflects our commitment to protect the UAE's rich biodiversity. Concern for the environment has been firmly embedded in our operational philosophy since our inception and the presence of our residential and commercial properties across Abu Dhabi permits us to play a pivotal role in both the Big Zero and the EAD's wider Mission to Zero campaign. Such partnerships complement, and are crucial to, the success of our recently announced Net Zero by 2050 plan and our continuous efforts to improve the lives of people and communities that we serve."
EAD's Mission to Zero programme has involved the 'Pile it Up' school challenge, an SMS campaign, outdoor advertising, a government Baadr Challenge, and the Big Zero installations, among many other initiatives. To date EAD has been able to collect approximately 1,500 kilograms of single-use plastic bottles through the Big Zero installations which were dispersed across Abu Dhabi.