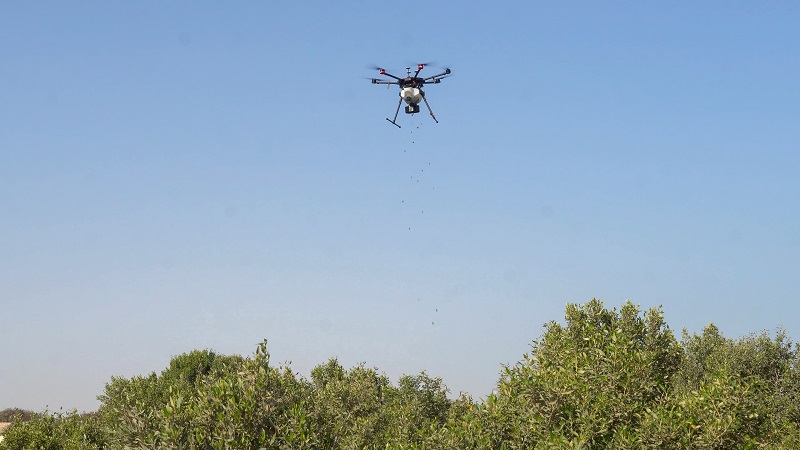 Abu Dhabi, UAE – June 5, 2023: The Environment Agency – Abu Dhabi (EAD) and ADNOC Distribution (ADX: ADNOCDIST), the leading mobility retailer in the UAE, today jointly inaugurated a state-of-the-art Reverse Vending Machine (RVM) initiative, commencing the rollout of innovative recycling facilities installed across ADNOC Distribution retail service stations. Developed in partnership, the RVM launch coincides with World Environment Day and supports the UAE's broader sustainability objectives.
The collaboration also supports the implementation of Abu Dhabi's Single Use Plastic Policy which was launched by EAD in 2020.
In addition to collaboration with ADNOC Distribution, major retailers support this policy including: Carrefour, Lulu, Abu Dhabi Coops, Choithrams, Spinneys, Waitrose and Spar. Through this partnership with the private sector, a substantial reduction up to 95 percent in the number of plastic bags consumed has been achieved.
In addition to eliminating single-use plastic bags, the Policy targets the recovery of 50 percent of single-use plastic water bottles consumed in the emirate of Abu Dhabi, which amounts to 7,500 tonnes. This will be achieved by an incentive-based plastic bottles recovery scheme and the installation of smart recovery infrastructure including Return Vending Machines (RVMs), smart bins and other door-to-door collection applications across Abu Dhabi.
To support the success of the bottle recovery initiative, EAD has engaged key stakeholders such as large retailers, major attraction sites, real estate developers, among others. The Agency has also invited private sector packaging entities to participate in the project.
Furthermore, the Agency has been working with Veolia through it's RECAPP initiative to deploy RVMs in prime locations with high footfall including malls, academic institutions, Abu Dhabi Corniche and other visitor attraction sites. This initiative also comes under the umbrella of EAD's 'Mission to Zero' outreach campaign that aspires to zero plastic, zero waste, zero emissions and zero harm to biodiversity.
ADNOC Distribuiton customers can now deposit used plastic bottles and aluminum cans into the conveniently located RVMs. Each machine automatically updates customers on the number of RVM deposits completed, allowing them to track their recycling efforts. The RVM rollout across ADNOC Distribution's retail station network will be completed by the end of July.
The RVMs are a simple yet effective solution to the growing problem of plastic bottle pollution. By incentivising people to recycle their used bottles, the machines encourage responsible behavior and help reduce the amount of plastic ending up in ecosystems and landfills.
Her Excellency Dr. Shaikha Salem Al Dhaheri, Secretary General of EAD, said: "Recently, we announced the remarkable success of the first year of our single-use plastic bag ban. To complement this success, we are always introducing similar initiatives for the reduction of single-use plastic in the emirate of Abu Dhabi. This bottle recovery initiative aims to dramatically recover single-use plastic bottles that harm our environment. This is because it takes 450 years for a single-use plastic bottle to degrade, which means that our terrestrial and marine environments will be filled with microplastic, affecting biodiversity, our ecosystems, and most importantly, human health.
She added: "We are working with different organisations to increase the quantities of bottles collected and ensure their recycling. We will be deploying, starting this month, the needed bottle recovery infrastructure in partnership with key stakeholders. Our high-level target is to enable recycling of over one million single-use plastic water bottles per day. I am happy to see one of our key partners, ADNOC Distribution embracing this initiative with an ambitious plan of locating RVMs in their service stations in Abu Dhabi."
She elaborated: "We conducted a study to assess the best way to engage the community to foster a culture of recycling, and we discovered that an incentive-based scheme would lead to the best results. Therefore, the RVMs to be installed in Abu Dhabi will have an attractive incentive for consumers as we are aware that when individuals are rewarded for sustainable daily habits, they are motivated to do more, which is what we essentially need to make a recognisable difference in protecting our environment."
Eng. Bader Saeed Al Lamki, CEO, ADNOC Distribution, said: "By offering recycling opportunities at our ADNOC service stations, we are capturing a unique opportunity to involve our customers in our sustainability journey. In addition to minimizing waste and recycling plastic and aluminum, the presence of RVMs will also raise awareness of important environmental issues with our customers."
The RVMs are a simple yet effective solution to the growing need for more recycling. By incentivising people to recycle their used bottles and cans, the machines encourage responsible behavior and help reduce waste ending up in ecosystems and landfills.
Each RVM will automatically send an electronic alert to a dedicated recycling collection agent once full to efficiently collect and transport bottles and cans to a local recycling center.