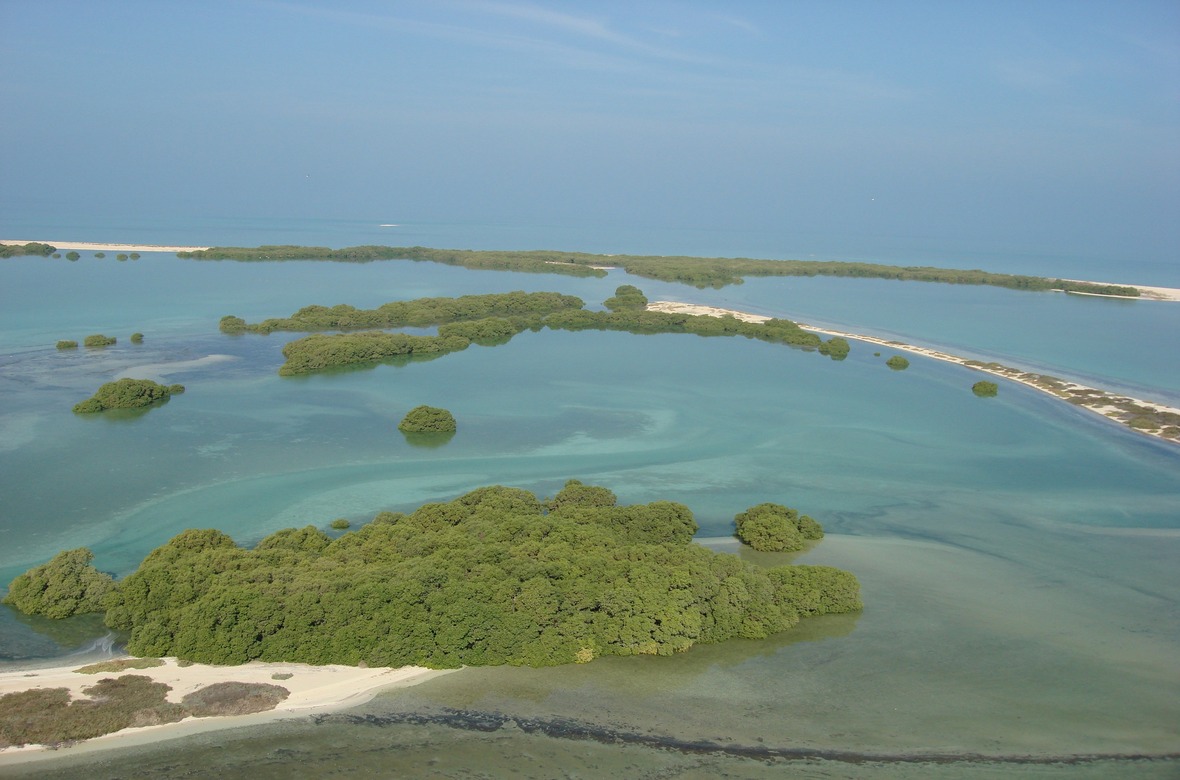 Abu Dhabi, 5 September 2023: Under the patronage of H.H. Sheikh Hamdan bin Zayed Al Nahyan, Ruler's Representative in Al Dhafra Region and Chairman of the Board of Directors of the Environment Agency – Abu Dhabi (EAD), and within the framework of the Abu Dhabi Climate Change Strategy and Abu Dhabi Mangrove Initiative and the UAE's hosting of the 28th Conference of the Parties to the UN Framework Convention on Climate Change (COP28) – which will be held from 30 November-12 December 2023 in Expo City, Dubai, EAD announced the launch of "Ghars Al Emarat" (UAE Planting Initiative) that will see 10 mangrove trees planted for each conference visitor.
Through the initiative, which coincides with the Year of Sustainability, mangroves will be planted using innovative methods such as drone dispersal, and approximately 10 mangroves will be planted for each visitor participating in the conference. Mangroves will be planted during the last quarter of this year, which is the best time for planting this species, within the most suitable coastal environments for growth, such as the Marawah Marine Biosphere Reserve, Al Mirfa City and Jubail Island where natural mangroves already exist.
This initiative also supports the goals of the Abu Dhabi Mangrove Initiative, which was launched in February 2022 during the meeting that brought together HH Sheikh Khalid bin Mohamed bin Zayed Al Nahyan, Crown Prince of Abu Dhabi and Chairman of the Executive Council, and His Royal Highness William, Prince of Wales, at Jubail Mangrove Park in Abu Dhabi. The initiative provides a platform for the development of innovative solutions for conserving and restoring mangroves, helps mitigate the effects of climate change, and raises awareness of their importance and the need to restore them, while strengthening the emirate's position as a leading global research and innovation centre in mangrove conservation.
Her Excellency Dr. Shaikha Salem Al Dhaheri, Secretary-General of EAD, said: "This initiative aims to support Goal 13 of the United Nations Sustainable Development Goals related to 'climate action', which calls for urgent measures to be taken to address climate change and its impacts. It also supports national initiatives including the UAE Net Zero by 2050 climate neutrality strategic initiative, which aligns with the UAE's goal of planting 100 million mangroves by 2030."
"This initiative also highlights the UAE's commitment to achieving climate neutrality and promoting nature-based solutions to reduce the effects and adapt to climate change and reduce the environmental footprint of conference visitors, at the rate of absorbing one tonne of carbon for every 5,000 mangrove trees," Her Excellency Dr. Shaikha added.
Her Excellency Razan Al Mubarak, UN Climate Change High-Level Champion for COP28, said: "Building a resilient, net-zero future depends on halting nature loss and restoring our natural ecosystems. Nature-based solutions, including those involving mangroves, have the potential to supply over a third of our climate mitigation needs and build resilience to the effects of climate change. I welcome this EAD-led initiative which both raises awareness and takes action to restore and protect mangroves in the UAE."
Mangroves are among the most productive coastal ecosystems in the world and are therefore extremely important as they provide a variety of ecological and economic services. Mangroves help mitigate the effects of climate change, as they absorb greenhouse gases and can store and sequester carbon.
In Abu Dhabi, the trees support a wide range of biodiversity that live in them. Mangroves also play an important role in protecting neighbouring habitats such as seagrass beds and coral reefs from sedimentation, as well as helping to improve water quality and supporting ecotourism activities.
Abu Dhabi hosts 85 per cent of the United Arab Emirates' mangroves, and as part of its strategy, the Agency is working to study and preserve these important coastal habitats. Thanks to mangrove rehabilitation projects, Abu Dhabi has witnessed an increase in the size of its mangrove areas. Efforts to restore mangroves in the UAE date back to the 1970s, when the late Sheikh Zayed launched extensive afforestation programmes to plant mangroves on the country's beaches.
Since its inception, EAD has continued Sheikh Zayed's efforts via a range of afforestation programs in cooperation with its concerned partners, which include the planting of 40 million mangroves since restoration efforts began, on islands and in various regions, including Saadiyat, Jubail, Yas, Hudayriat, Abu Al-Abyad and Al Dhanna.
These programmes have helped increase mangrove areas by 64 square kilometres. In line with the application of strict protection laws, the amount of Abu Dhabi's mangroves has increased by more than 35 per cent, and, today, the emirate's total mangrove area is 176 square kilometres, including natural and cultivated trees.
The Agency launched the Abu Dhabi Blue Carbon Demonstration Project, which studied the importance of mangroves and their role in combating climate change, through carbon sequestration, and the importance of blue carbon habitats and ecosystems. The results revealed that mangrove ecosystems in Abu Dhabi contain 98 tonnes of carbon per hectare. This is equivalent to 1.7 million tonnes for a mangrove area of 17,500 hectares in Abu Dhabi.
In 2020, the "Mangrove Carbon Sequestration Pilot Study" was carried out to assess soil carbon sequestration rates in mangrove forests, which revealed their ability to store carbon at a rate of 0.5 tons per hectare per year. This is equivalent to 8,750 tonnes in Abu Dhabi per year – the annual equivalent to the energy consumption of 1,000 homes.