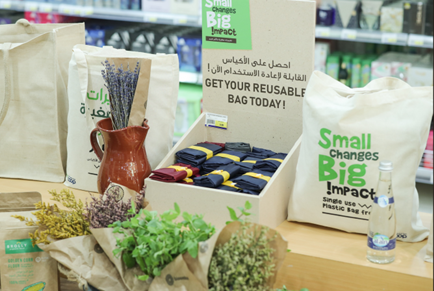 Abu Dhabi, 6th June 2023: To mark World Environment Day on June 5th as it aims to #Beat Plastic Pollution, and a year after the ban on single-use plastic bags came into effect, the Environment Agency – Abu Dhabi (EAD) confirmed that more than 172 million single-use plastic grocery bags have been prevented from entering the environment. The ban was enacted on June 1st, 2022, and, to date, 450,000 single-use plastic bags have been saved each day.
The Environment Agency – Abu Dhabi launched its comprehensive Single-Use Plastic Policy in 2020 as a move to reduce the reliance on single-use plastic items and to foster a culture of sustainability and recycling in the emirate of Abu Dhabi.
On May 24th last year, a few days prior to the ban, the emirate's major retail outlets pledged to support the Abu Dhabi Single-use Plastic Policy. These included: Carrefour, Lulu Hypermarket, Abu Dhabi Co-operative Society and Spar, Choithrams, Spinneys and Waitrose. Other big retailers have joined the initiative like ADNOC outlets. The retailers expressed their commitment to eliminating the consumption of single-use plastic bags by offering viable and affordable alternatives and by charging customers a minimum fee of 50 fils for each reusable plastic grocery bag.
Following this, the retailers recorded a dramatic reduction in the numbers of plastic bags of between 90 to 95 percent. This means for each hundred bags used to be consumed at the cash counters of retailers before the ban, only five bags are still being taken by consumers and they are all reusable.
Her Excellency Dr. Shaikha Salem Al Dhaheri, Secretary General of the EAD, on the occasion said: "In Abu Dhabi we have seen an unprecedented reduction in single-use plastic bags since the implementation on the ban just one year ago. To date we can safely say that we have prevented 172 million single-use plastic bags from entering and harming the environment. We could not have done this without the unconditional support of the retailers who acted quickly in implementing the ban. They have recorded remarkable figures reaching more than 95 percent reduction in the number of plastic bags at the cash counters of some of the major retailers. This reduction in the number of bags and the increase in demand for reusable bags resulted in an overall reduction of the weight of plastic consumed by 77 percent. To put this into context, this is the equivalent to a reduction of more than 1000 tons of plastic bags that were eliminated in just one year."
She added: "The whole Abu Dhabi community played a pivotal role in helping us achieve this noteworthy success by rapidly adopting reusable bags and it reveals how the environment has become a significant topic of interest. The residents of Abu Dhabi shifted their mindset and adapted quickly to the ban, helping us fulfil our mission of saving the planet to create a sustainable future for all."
She elaborated: "By reducing the amount of single-use plastic bags from negatively affecting the environment we are able to protect our terrestrial and marine biodiversity so that the future generations have a healthy environment sustaining them going forward". The carbon footprint of the quantity of plastic eliminated is equivalent to 272,000 tons of CO2 equivalent which translates into saving emission from 629,000 barrels during the past year."
A prime initiative that contributed to the single-use plastic bag ban's effectiveness was the launch of the public-facing outreach campaign, 'Mission to Zero'. The campaign aims to achieve the aspirational, forward-looking target of zero consumption of single-use plastics, zero waste and zero carbon emissions, with zero impact on biodiversity.
Featuring various offline and online activations to attract community members, government organisations, the private and business sector, retailers, restaurants, and youth, the campaign was launched to inspire Abu Dhabi residents to consider sustainable environmentally friendly reusable alternatives, as opposed to single-use items.
Outdoor advertising played a key role in 'Mission to Zero' messaging across Abu Dhabi, and was featured on bridges, buses and lamp posts with dynamic visuals and catchy slogans and was viewed by 5 million people. The social media campaign alone garnered 5,000,000 views.
Mission to Zero also featured an SMS campaign to encourage the Abu Dhabi community to become more aware of the adverse effects of single-use plastic and to adopt a culture of recycling. The SMS messages targeted supermarkets, baqalas, catering companies that provide food services to labour camps, labourers, as well as the general public. They were issued in a multiple languages – Arabic, English Hindi and Urdu – with a series of seven messages for each target group. By the end of the campaign, a total of 655,000 SMS messages were sent.
There were 1,600 visits to baqalas by students to spread awareness about the harm of single-use plastic bags, and there were 24 workshops organised attended by 4,142 individuals.
In June 2022 EAD issued a special guide: 'Becoming Free of Single-Use Products: A Guide for Abu Dhabi Government'. So far, 14 government entities are already free of single-use products. Other government entities are also joining and it is expected that this figure will increase. The entities motivated their employees to reduce their consumption of single-use products like bags, cups and lids, cutlery, plates, stirrers and bottles from their events and operations.
Future initiatives launching soon by the Agency include a Bottle Return Scheme as well as a ban on Styrofoam products in 2024.