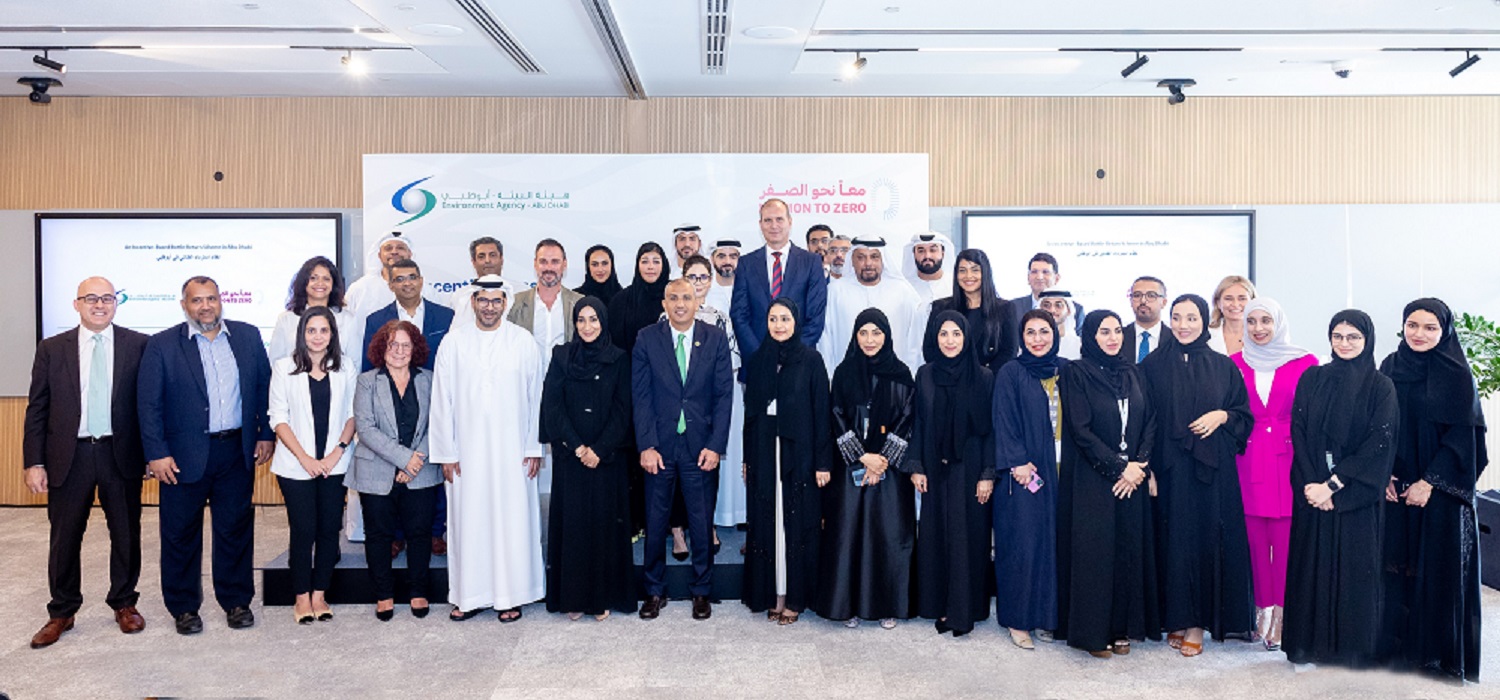 Abu Dhabi, 12 July 2023: The Environment Agency – Abu Dhabi (EAD), in collaboration with key stakeholders, has set the ambitious target of collecting 20 million single-use plastic bottles a year for recycling. This will be achieved, in part, by installing 70 Reverse Vending Machines (RVMs) and 26 Smart Bins in areas with high footfall in the emirate of Abu Dhabi such as the Corniche, Abu Dhabi Airport, sports venues, and malls, as well as academic institutions.
The new bottle return scheme is under the umbrella of EAD's Mission to Zero public outreach campaign that aspires for the target of zero plastic, zero waste, zero emissions and zero harm to biodiversity, which was launched last year as part of the Single-Use Plastic Policy.
EAD organised a launch event and hosted by Al Dar Group in the presence of H.E. Dr. Shaikha Salem Al Dhaheri, Secretary General and number of EAD key stakeholders in this ambitious initiative. EAD main partners in this initiative are ADNOC Distribution Company, Abu Dhabi Cooperative Society, Aldar, Carrefour, Choithrams, Dgrade Lulu, Nadeera, RECAPP BY VEOLIA and UAE Circular Packaging Association.
During the event, H.E. Dr. Shaikha, stated that: "Over the years we have discovered the harm of single-use plastics on land and marine ecosystems, harming our species and taking hundreds of years to disintegrate. Therefore, we launched the Abu Dhabi Single-Use Plastic Policy in 2020 as the first integrated policy in the region. Today, as an extension of this policy we are deploying several incentive-based RVMs as well as Smart Bins that will be installed in strategic locations all across Abu Dhabi in collaboration with our strategic partners who have supported the implementation of the policy from the beginning. Our partners have been instrumental in helping us to implement our policy and have shown unprecedented commitment since we banned single-use plastic bags in main retail outlets last year. We urge all segments of the society to join us towards achieving the goals of our policy by nurturing a culture of recycling so that Abu Dhabi is the most liveable city in the world."
She added: "These innovative RVM machines and Smart Bins will allow the community to place their single-use plastic bottles and aluminium cans for recycling and receive rewards for doing so. We have ensured that they are well located so that they are accessible, minimising the efforts for consumers to find them. We know that incentives are vital in this day and age to encourage consumers to change their behaviour and that is why these RVMs and smart bins will be a great tool for us to nurture a love for recycling by Abu Dhabi residents as a key step to build a circular system and reduce material flow."
Bertrand Loumaye, Country Manager, UAE- Majid Al Futtaim Retail said: "We, at Carrefour, are honoured to be partnering with the Environment Agency Abu Dhabi for the 'Mission to Zero' Campaign. We've committed to install 18 Reverse Vending Machines (RVMs) and to offer Smart Bins across Carrefour stores in Abu Dhabi and Al Ain. Our commitment to environmental sustainability is at the core of our operations, and this partnership is a testament to our dedication to protecting the environment. With this initiative, our customers can easily recycle their waste and join us in our sustainability journey. We look forward to this next phase, as we continue to work towards Majid Al Futtaim's ambition of eliminating the distribution of single use plastic across all its businesses by 2025."
CEO of Choitrams, Rajiv Warrier on the launch of the scheme: "We are glad to participate in the Mission to Zero campaign in partnership with Unilever and DGrade. The bottle recovery scheme aligns perfectly with our vision to reduce plastic waste and contribute to a cleaner, greener future. By encouraging our customers to bring their plastic bottles for recycling, we aim to create a sense of shared responsibility in safeguarding our environment."
Sara Jackson, Technical Director and Board Member of the Circular Packaging Associations said: "The Circular Packaging Associations is supporting EAD's Mission to Zero campaign, as part of its commitment to drive a circular economy for packaging in the UAE. In collaboration with the association's member companies Carrefour, Agthia Group, The Coca-Cola Company, Nestlé, PepsiCo, talabat, Tetra Pak, and Unilever Arabia, and in partnership with YallaReturn by Nadeera Technologies, the association aims to raise awareness and promote the recovery and collection of multi-material packaging, transforming waste into a valuable resource."
Lulu Group's CEO, Mr. Saifee Rupawala said: "As part of our ongoing efforts, we are actively working towards achieving "zero-carbon emissions" within the group spread across GCC and other parts of the world. We have been involved in various initiatives whether it be awareness through Walkathons or innovative ways of rewarding the recyclers of plastic bottles and aluminum cans through Reverse Vending Machines in retail outlets and malls or promoting reusable bags."
He reiterated: "As a responsible corporate entity, Lulu Group remains committed to environmental sustainability and collaboration. We believe that a cooperative approach, involving stakeholders, industry peers, and the public, is essential to addressing global challenges effectively."
He added: "We will continue to explore and implement environmentally friendly alternatives while ensuring that the transition is seamless for our valued customers. By striking a balance between sustainability goals and customer expectations, we aim to maintain our market leadership and contribute positively to the environment."
On World Environment Day of this year, EAD announced a partnership with ADNOC Distribution to install RVMs in service stations, as well as a partnership with Veolia by RECAPP.
Recently, EAD revealed that more than 172 million single-use plastic grocery bags have been prevented from harming the environment after the ban was proclaimed on June 1st 2022. Within one year, 450,000 single-use plastic bags were being saved each day and retailers logged a dramatic reduction of between 90 to 95 per cent in the numbers of plastic bags used. This is real progress, as for each hundred bags consumed at retailers' cash counters prior to the ban, today only five bags – all reusable – are being taken by consumers.
Mission to Zero was composed of a very visually appealing outdoor campaign on buses, bridges and lamp posts and a series of public activations such as workshops, an intensive SMS campaign in four languages, and a heavy social media campaign.
It also included baqala tours done by youth to educate them on the harms of single-use plastic, a school 'Pile It Up Campaign,' which involved a competition between schools as to who could gather the largest number of single-use plastic bottles for recycling, a government BAADR challenge on which government entity reduced the most single-use plastic items and the installation of 'Big Zeros' in prime locations in Abu Dhabi where single-use plastic bottles could be placed and then taken for recycling.