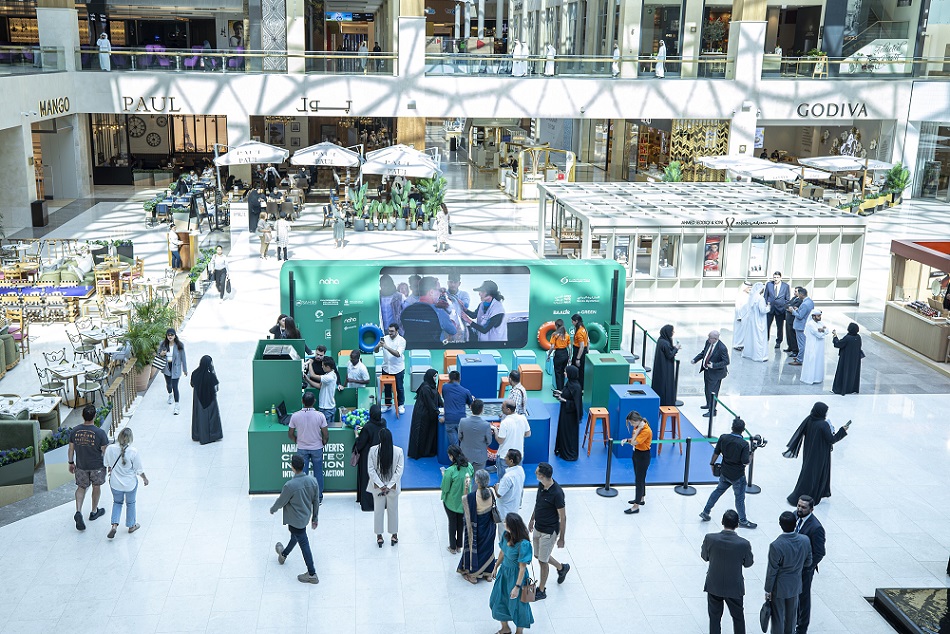 Abu Dhabi, 9 November 2023: As part of their ongoing public private collaboration to enhance sustainability initiatives, the Environment Agency – Abu Dhabi (EAD) and du, part of the Emirates Integrated Telecommunications Company (EITC), have unveiled the naha environmental engagement platform. The platform is designed to utilise personalised digital platforms to promote sustainability, elevate environmental awareness, and encourage green practices across Abu Dhabi and beyond.
The naha platform (taken from the words 'natural habitat') will centralise EAD's key outreach initiatives, which are based on scientific information and knowledge, aiming to turn climate intentions into meaningful action in the UAE by participating and engaging in the various programs that are part of the platform.
Naha offers a range of tools and resources, including a personalised 'my naha' newsfeed and calendar; to empower individuals to adopt environmental lifestyle changes through increased awareness, event participation, and community engagement.
The e-platform includes more than 8 environmental programmes and initiatives, such as the Sustainable Schools Initiative (SSI), Sustainable Campus Initiative (SCI) and "Sahim" Citizen Science Programme, and other initiatives targeting youth, school students, and the community.
This digital ecosystem will establish a coordinated effort among stakeholders to address pressing environmental issues, notably climate change, which is particularly relevant as the UAE gears up to host COP28 this year.
Her Excellency Dr Shaikha Salem Al Dhaheri, Secretary General of EAD, said: The launch of the naha platform is an evolutionary step in our partnership with du. It is a culmination of our educational awareness initiatives manifested in a unified digital platform. As 2023 has been declared the 'Year of Sustainability' by His Highness Sheikh Mohamed bin Zayed Al Nahyan – President of the UAE, and with the UAE hosting COP28, this platform exemplifies our unwavering commitment to environmental responsibility and our continuous efforts towards creating awareness among the community about the importance of sustainability and breaking it down into tangible actions which can be performed on a daily basis."
She added: "naha serves as an essential tool for expanding community participation and environmental awareness, leading us towards a sustainable future that balances economic growth, technological innovation, and environmental conservation."
Her Excellency elaborated: "EAD remains steadfast in safeguarding Abu Dhabi's environment. Our alliance with du, magnifies our collective capabilities to leverage digital technologies for heightened environmental awareness, lifestyle changes and action."
Fahad Al Hassawi, CEO of du, said: "Our involvement in naha signifies a natural progression of our strategic partnership with EAD. By leveraging our advanced technological capabilities and expertise in data management, we are bolstering naha platform's mission to convert climate intentions into actionable measures. In addition to our impactful technological contributions, du is committed to proactively engaging with key audiences, amplifying the platform's influence and reach."
The collaborative launch of naha by EAD and du heralds a new chapter in Abu Dhabi's journey toward sustainability, leveraging technology as a powerful tool in confronting environmental challenges and fostering a sustainable future by engaging all sectors of the community.